[av_textblock size=" av-medium-font-size=" av-small-font-size=" av-mini-font-size=" font_color=" color=" id=" custom_class=" av_uid='av-k87sn2pd' admin_preview_bg="]

March 24, 2020
You or someone you know might be newly eligible for WIC
Has your income changed recently? Many families are experiencing stress and changes in income during the COVID-19 pandemic. Oregon Women, Infants and Children (WIC) offers healthy food, nutrition education and breastfeeding support, along with connections to community resources. WIC serves pregnant, postpartum or breastfeeding women, and children under age 5. Moms, dads, grandparents, foster parents or other guardians may apply for WIC for their children.
WIC is supporting the health and well-being of families throughout Oregon during this period of social distancing by providing services over the phone, Skype, Zoom and using text messages. If you or anyone you know is interested in WIC, fill out an online interest form any time of day. WIC will be in touch.
---
What to do if you're sick
Are you unsure of the symptoms of COVID-19 and what you should do if you're sick? About 80 percent of people who have COVID-19 will have mild to moderate flu-like symptoms, like a fever and cough. If you are very ill or have trouble breathing, those are important reasons to be seen by a health care provider. This #StayHomeSaveLives social card gives you guidance on what to do if you're sick.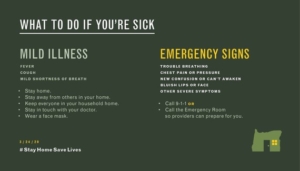 (click image to enlarge)
---
Oregon reports 3 new COVID-19 deaths, 18 new COVID-19 cases
COVID-19 has claimed three more lives in Oregon, raising the state's death toll to eight, the Oregon Health Authority reported at 8 a.m. today.
Oregon Health Authority also reported 18 new cases of COVID-19, bringing the state total to 209, as of 8 a.m. today. The COVID-19 cases reported today are in the following counties: Clackamas (3), Clatsop (1), Jackson (1), Marion (2), Multnomah (4), and Washington (7). Oregon Health Authority reports new cases once a day on its website: www.healthoregon.org/coronavirus.
[/av_textblock]