Business networking, Applegate-style.
When I arrived at Valley View Winery for the Applegate Business Resources Fair on September 15th, local reggae artist, Fyah Harp, handed me a flyer for his upcoming October 1st Harvest Celebration concert at the Sugarloaf Community Center: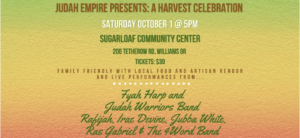 I looked at the flyer and wondered: How do business and art intersect?
The Resource Fair, sponsored by A Greater Applegate, was set up on the winery's lawn in front of that oh-so-iconic barn-and-vineyard panorama. In the late afternoon light, attendees enjoyed conversation, free nibbles and local wine.
When I asked the Jamaican-born artist about the "business" of music, he explained that, while he'd prefer to just create music and perform, "We all need money to survive." So far, he has financed his own shows, but hopes to make them self-sustaining. "I come to the Business Network events to learn as much as I can," he said.
Fyah connected to the group after meeting Ashley Bradfield, the Business Network Manager for A Greater Applegate.  She deserves credit for the Fair; conjuring it was a step toward one of the goals that emerged from the neighborhood listening sessions AGA conducted over the last few years:  To creating economic vitality—but Applegate-style.
In attendance were dozens of community members, including Peter Salant who raises grass-fed beef, Lisa Dole of Murphy Hemp and Wellness and Amy Jo Thompson of Heart Rock Cafe, who has an exciting new plan for an Applegate welcome center and cafe in Murphy. There were also representatives from the the county Chambers and libraries, representatives from Southern Oregon University's Business School, and marketing experts.  They were generously on-hand to help the Applegate business community find out about opportunities and resources.
"Getting to see so many businesses and community partners supporting each other is what the Business Network is all about," said Ashley.
Support through Grants
The event was one part of AGA's constellation of efforts to help the Applegate business community.  Earlier this year, their Business Network provided technical assistance to local businesses. For Fyah, this came in the form of helping put an email list together to inform people of upcoming shows and merchandise (visit his website here). He also receives help with flyers and is getting help with organizing business taxes.
The same Oregon Business Technical Assistance (BOTA) program helped Marcy Rustad of the Applegate River Lavender Farm, who was also in attendance. She used it to entirely rebrand her business through new label design, a brand new website and promotional materials.
At the meeting, A Greater Applegate announced a new funding opportunity called the "Innovation Grants." The application deadline is on October 15th.  It's a simple form and is available to anyone with a project that supports one of the community goals outlined on The Applegate Valley Vision. Individuals, businesses, and nonprofits are eligible to apply.
Social Support
Logistical support aside, the Business Network also provides opportunities—like the Resource Fair– to get to know neighbors and the surrounding business community. The get-togethers are often in beautiful settings with food and beverages—a contrast to the awkward card exchanging mixers that can often characterize business events. In fact, the resource fair felt warm and convivial.
"What I like about this event," said Elise from Oshala Farm, "is that it deepens existing connections outside of a work environment. At the farm, I am always so busy." Elise also met a couple new people as well:  Anna Eastman, the upcoming owner of the Applegate River Lodge, and the cider maker, Ryan Motley, of Apple Outlaw.
Seth Moody, from Nymph & Woodsman, a purveyor of artisan wellness goods, shared the feeling: "We need to make business more social. Work is life. It's not just about making money."
It was clear at the event local businesses weren't just focused on enriching wallets, but enriching people's lives and the valley. From Kristen Lyon's passion for catering through her Jefferson Farm Kitchen to Fyah's desire to "bring Roots Reggae music to the valley", a large part of doing business comes from a desire to use one's talents to contribute and connect.
A Different Idea of Business
In fact, the very idea of "business" was expanded on by Lycan El Lobo Coss, who was at the event with her partner, Biance Fox Ballara, a local bookkeeper, grant writer and social organizer.  They founded a project called Nativewomanshare, based in Murphy. They enlist an indigenous approach to healing the land and also provide safespace for the queer and BIPOC communities.
Lycan wasn't there to sell anything, but wanted to be represented: "How many Native Americans do you see standing out here? How many are representing the Native community?"
She mentioned that "business" doesn't mean just buying and selling, but includes social development and collaboration. "This is the business of the valley," she said, looking around.
Clearly, business is many things: it's social, it's passion, it's representation, it's activism, it's art and it's music, food and farming. But it's not always easy. Any winegrower dealing with drought can tell you that. Or any café coming up against zoning regulations.
Or any artist trying to make a living with their music.
"It's never smooth," Fyah laughed. "It's NEVER smooth!" But we pray and know it always works out."
Lucky for us, A Greater Applegate's Business Network is here to help.
P.S. I went home and pulled up some of Fyah's music from his website. The first song, Love Yourself, put me in an instant good mood. Listen to it right here.
And don't forget: Fyah will be performing his Roots Reggae at The Sugarloaf Community Center in Williams on October 1rst. Get your tickets here.