These Applegate Artists will be featured at Talk of the Town in Jacksonville on Thursday, March 16th at Art Presence Art Center in Jacksonville.  Prepare yourself for lively conversation–and wine from our local Schmidt Family Vineyards! 6pm-7:30pm
KRIS ALBRO
I've done a lot of weird things in my life. I've been an aircraft mechanic and a firefighter. I discovered welding when I owned an automotive shop and started playing with the welder and piecing chain link into different designs. It just kind of grew from there.
I moved to the Applegate from Charleston, South Carolina. Back there, a lot of my stuff was very floral, or ocean-themed. When I moved to the Pacific Northwest, it morphed completely. It's still very naturally-driven, but I'm doing work with a more western inspiration—with feathers and arrows. I definitely get my creative drive from my surroundings.
I'm the welding teacher at Hidden Valley Highschool in the Applegate. It's really fun because I've been able to work on my pieces throughout the day. Because of that, the kids see a different aspect of welding. I'm able to show them that the tools we use for industrial welding can be used on the art side of things, too. 
My teaching has an industrial focus because students in the Applegate-area go into hands-on fields more often than not. I want them to have the skill-set for a career—not to graduate and say: 'She taught me how to make a rose, and now I can't do anything.'
We have a big career fair coming up. The kids are going to be making different projects for that. It's going to be interesting to see them put their skill set to use when they've been observing me messing around with my art for so long.
They are so excited about my art show!"
GRANT STONER
"I think a lot of people don't get abstract art, and I can't blame them. I'm not sure it's very accepted around here. At least, I haven't seen hardly any around Southern Oregon. Abstract art works with the imagination and the subconscious. You can look at it, and it can be whatever you want it to be—it doesn't have to be what the artist thought.
I got into it when I started going to MOMA in San Francisco a lot. Some of the stuff was really crazy—like "Is that really art?" But some other things just blew me away. Even though you couldn't tell what it was, it was just beautiful and amazing.
I got inspired and started reading books about certain artists. Then I just started experimenting. I got paint and canvas and started painting with newspapers, spatulas, pieces of wood—anything except brushes. My biggest influence has been Gerhard Richter. He does a lot of scrapy things. I kind of do stuff along his lines. Some of my stuff relates to music. I'm a musician, so the texture of music has always been very fascinating to me.
I wish more people were more into abstract art in this area.
Would I move back to the city?
No, I love it here. I'm a country boy at heart. I have 15-acres in the Applegate. My work is influenced by the naturalness of the place. I love the river and all the trees… we have an endless amount of trees. Nature is always inspiring–in art and in music."
MARKIE MULHOLLAND
"I'd been traveling and living in Central America for several years and selling my macrame. I had a friend in Mexico who told me about a great silver-smithing teacher in San Miguel de Allende. I took his word for it and went and studied with the teacher for about three months. I wanted to continue my jewelry journey, to be an artist, and to have my own jewelry business.
He was a tough teacher. He demanded excellence and would let you know if you didn't take the right steps, or if he thought your question wasn't a good one. But I was determined.
What was neat about studying with him was all the different techniques that he taught. There are endless ways to execute silversmithing—all sorts of tools and texturing. Some of what he taught I don't use, but I'm happy with where I'm at now as far as flow and knowing what my limits are.
Jewelry-making is definitely an art—but also a craft because there are certain steps you have to take. You can have whatever idea you want, but if your solder isn't flowing and you didn't sand, and clean, and make sure it's all flush, then it's not going to happen. There is definitely a craftsmanship element to it
I'm super Southwest-inspired in my art. I love reoccurring patterns in nature and in mandalas. I really like symmetry, though I'm getting more into asymmetrical designs. What I like about this one is that it has a reoccurring pattern, but it's not symmetrical.
My workspace is in my backyard in Williams. It's a beautiful space with lots of natural light. I'm also very happy with the amount of market opportunities there are in the Applegate—the weekly markets, the special events at wineries or at holiday fairs.
It's a great place. I get my inspiration from nature… and nature here is abundant." -Markie Mulholland (
www.MarkitaRita.com
)
CORBIN BRASHEAR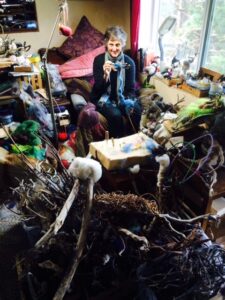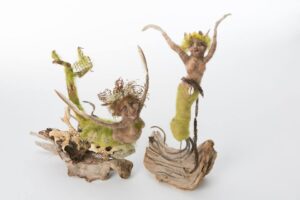 "I am a fiber artist and teacher who enjoys pushing the edge of wool, whimsy and wonder by using a felting needle to sculpt and coax elemental spirits into form.
My work is profoundly influenced by the rugged wilderness of my home in the Siskiyou Mountains, and by the Pacific Ocean. In these places, I find the raw materials I love to work with–driftwood , kelp and lichen. I weave these treasures together with my felting needle to create my whimsical mixed media sculptures, masks and tapestries.
I celebrate the wild spirit and life story of these materials by using them to create new forms–forms that seek to embody the joy, wonder and resilience of the wild places of this beautiful earth."
 (
www.wildandwoolyfelt.com
)
SUZAN HATCH
"I approach each of my pieces from the perspective of a playful adventure with colorful wisdom. Some of my larger pieces, I dream up, literally. I had repeated dreams of this one– 'Winds of Winter.' It represents the blowing, swirling, icy, frosty winds in winter. My challenge is to create that feeling on a substrate I make, and then add various colors, textures, shapes, and materials to form my image."  (https://www.suzanhatchart.com).