As Manager of Vista 222, Charlsie MacWillaims, has brought new vitality to Applegate Valley's social scene.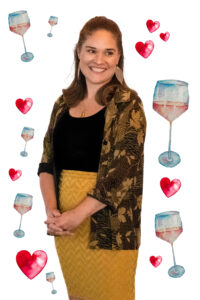 (Interview by Christina Ammon)
I was first dazzled by Vista 222 at one of their Food & Social Club events last year. These monthly dinners feature local food, local musicians, and often have a thematic-twist, like the Masquerade Ball last October, or the Blue Hawaii theme held in January. The next one, Clue-BQ, will be on March 30th.

An all-seasons venue, Vista 222 was started by a passionate group of locals who turned the historic  70-acre property off Missouri Flat Road into an event space that offers some of the most classic wine-country vantages in the valley. They host weddings, meetings and, most recently, The Phaneros Winter Arts Festival, which was attended by nearly 800 people. A wild success by any measure!

Each time I go to Vista 222, I'm struck by the mix of age groups and the mix of locals and visitors. I also love the way I'm sometimes seated at tables with strangers, who by the end of dinner, become friends. The food at Vista 222 is fresh and local, the wine awesome (especially the rosé!) and the vibe, well, kind of hip!

So, I had to know: Who is the person behind all of this wonderfulness?

Meet Vista 222 Manager, Charlsie MacWilliams:
Tell us a bit about your background, where you are from, work history etc.
I'm about as native to Southern Oregon as they come. I attended elementary school here locally, ultimately graduating from Grants Pass High in 2002. I then took business courses at Rogue Community College before starting my family at an early age.
My love affair with wine began when I took a job at the local Grocery Outlet. At 21, I became their Beer and Wine Department manager which connected me to our local booming wine scene. After eight years at Grocery Outlet, I dove into the Applegate Valley wine scene full swing.
My first wine-centric role was as Tasting Room Manager at Troon Vineyard. Under the leadership of Herb Quady, Brian Gruber, and Nichole Shulte, I was absorbed as much knowledge as possible. Troon then underwent several exciting transitions and  I, too, found myself being pulled into a new direction: One of sustainability. I took a new position as Tasting Room Manager for Cowhorn Vineyard & Garden under the supervision of Barbara & Bill Steele. That's where I found my wine home.
I worked closely with the Steele's for six years, helping them develop new programs, grow membership, and move into the first Living Building Challenge Certified Tasting Room.   I got to work in the field and cellar as well. It truly was a dream job. I'm forever grateful for the experience because it prepared me for my role with Vista 222 today.
 How did you find the Applegate?
During my Grocery Outlet days, I discovered the local wine trails. It's almost embarrassing that I grew up here, but hadn't discovered the beauty of what I now call home: the Applegate.
What were your first impressions?
Again, I was shocked that it was such a well-kept secret. Its beauty and abundance were mind-blowing. I knew instantly that I wanted to be part of it. After my first real wine tasting, I went home and put my resume together.
How did you connect to Vista and what is your arrangement with them/your role?
During the 2020 pandemic, like so many others, I found myself laid off. So, I updated my resume and shared it with a select few people. Ultimately, I'm not quite sure how Vista found me, though I'm certain it was word of mouth from someone I'd shared my resume with. I woke up to a vague and curious email one morning that inspired me to agree to an in-person meeting with one of the owners. When I learned the who's-and -what's of this project, I knew it would be something special for our valley.
 People often mistake me as the owner here–I think it's because I display so much pride in what's been
built and how far we've come in such a short amount of time. But my role is actually General Manager, which includes admin work, marketing, staffing, event curation, and more. I'm trusted to make sure all the events are well-executed and guests are happy. I love my role. I have learned more in this short amount of time than I have my wine career to date, and I can't wait to see where it leads me.
 How do you think Vista fits into the Applegate community?
We've created a much-needed gathering place that's different than a tasting room business model. If you can dream up an event, we have the space and team to help bring it to life.  I'm not sure that we've seen the full impact of having a business like this out here has in store for us just yet.
How do you come up with event ideas? Where do you draw inspiration?
What a great question that I often ask myself. Ultimately, it's about being a listener. There is no event that we've put on that hasn't been inspired by someone or something we've heard from the people that live here. Listening to what people want is truly the biggest source of inspiration. Sure, we put a Vista spin on ideas, but it's always about the community around us.
What events are planned for the future?
Oh, the dreams are big and the possibilities are endless. This year, by popular request, we are doing more community-focused events like the recent Phaneros Family Winter Arts Carnival. While I can't spill
all the beans just yet, I can invite you to follow us on Facebook and Instagram, or to join our email list and be amongst the first in the know. Next up, will be the return our annual Easter Egg-stravaganza, a free-to-the-community gathering with live music, food trucks, an egg hunt for kids up to 10, face painting and more. Last year we saw almost 500 people and are hoping to grow that.
Any events you are dreaming about?
Ultimately, I'd love to see us reach a point in both infrastructure and staffing that we can bring retreat-style business to our region. That's obviously a very long-term goal. Oh, and Billy….I'd love to have an intimate concert or song writers escape for Mr. Billy Strings, I wonder if having bass in the ponds would be enticing enough? My parents always said I should dream big.
 What is special about a supper club versus going to a restaurant?
That is easy: Community. The way we've styled our monthly pop-up dinners to host neighbors and guests
is very different than going to a restaurant. You meet and share a table with new people each time, you all enjoy the same meal without any hard decisions as we've curated the best the valley has to offer, and we always provide some sort of entertainment to connect and converse over.
These dining opportunities are truly a showcase of all things Applegate: from the community, the views, the wines, the farms in which we source the foods, and even where the Chef's live. If you've been, you just know, the energy is very special.
Anything else you would like to add?
I just want to thank you, and everyone who continually supports this project. Our team brain-stormed an event-focused winery/club during a time when the state didn't allow events and were graciously welcomed by the community from day one. I also want people to know, if there's something they want to see happening out here to please call. This view is meant to be shared.  
For upcoming Vista 222, including the Clue-BQ and the Easter Egg-stravaganza, click here.